Rent a car for one day to visit the National park
Daytour Washington Slagbaai Park
One of the activities that you can't miss during your visit on bonaire is a daytour to the Wastington Slagbaai park. The correct name is Washington Slagbaai National Park. "Washington" and "slagbaai" were 2 different area's in the past. The former owner of Washington sold his property to the government. His wish was to keep his property as a nature reserve. Some time later the government added Slagbaai to the Washington Reserve and that is how Washington Slagbaai National Park was born. The total acreage is 14.000 hectares. There is a lot to see in this area. For the younger and the older generation. If you want to go to the National Park you need to prepare yourself. It is important to think about a couple of things before you go to the north. The route to the park is shown below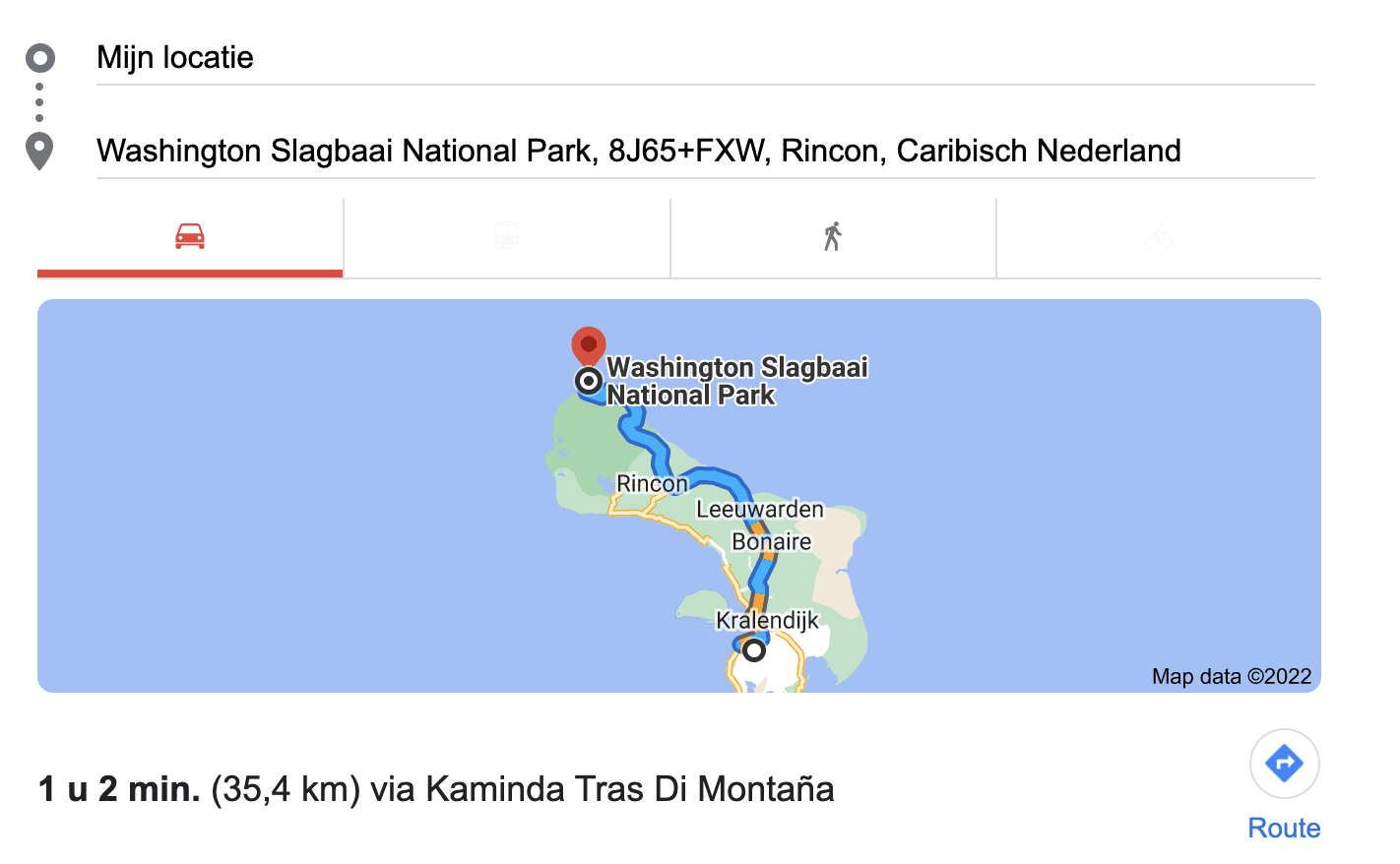 It is important to know your reason to visit the park. It is required to have a good car. Most of our cars are suitable, check on the specific car page or ask us if the car you prefer to rent is good for a visit to the park. Inside the park there are multiple activities you can do, for example you can do a mountain bike route of make a hike to the Brandaris, which is the highest point on bonaire.
Ticket
We recommend to buy your tickets in advace, you can do that on the following link: https://stinapabonaire.org/.
Day planning
Plan your day: the park is open from 08:00 til 17:00. However you are unable to enter the park after 14:00. Always check the website, Facebook or Instagram page of Stinapa to know if the park is open. During the raining season the park is closed more often.. https://www.facebook.com/Bonaire.STINAPA/.
Take enough water
It is very important to take enough water and food to the park. It is not possible to buy anything inside the park.
Take your swimming gear
Next to the beautiful nature there are also some nice places to cool down, snorkel,, dive or sunbath. Don't forget your swimming gear, snorkels, and a towel. You can also jump from the cliff. Will you try it?!
Use enough sunscreen
It is important to use sunscreen every day, but some people forget when they go to the park while you are outside in the sun all day. Try to apply it multiple times a day!
Discover the natural beauty of Bonaire's Washington Slagbaai Park with our: Daytour Washington Slagbaai Park. Book a pickup for a day at Pickup Rental Bonaire and explore the island's stunning National Park.