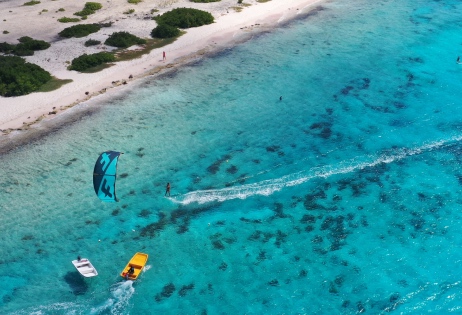 Learn kitesurfing on Bonaire
Welcome to the exhilarating world of kitesurfing on Bonaire! If you're a kitesurfer or aspiring to ride the blue water with a kite, this blog is your gateway to discovering the thrilling possibilities that this Caribbean gem has to offer.
Imagine this: you're on Bonaire, enjoying the warm weather and a gentle breeze. It's the perfect conditions for kitesurfing. You gather your gear and toss it in the back of your pick-up truck. The route to Atlantis (the kitesurfing beach) takes you past the pink salt flats and the stunning blue waters of the Caribbean Sea. Just for this route alone, you'd want to rent a pick-up truck for your vacation on Bonaire.
Our blog "Kitesurfing on Bonaire" is your comprehensive guide to everything kitesurfing-related on the island. Learn about the best kitesurfing spot, where to find top-notch lessons from certified instructors, and where to rent high-quality kitesurfing gear. We've got you covered with all the information you need to make the most of your kitesurfing adventure.
As you plan your kitesurfing escapade on Bonaire, don't forget the convenience of having your own transportation. With a pickup from Pickup Huren Bonaire, you'll have the freedom to explore the island and access various kitesurfing spots easily. Plus, enjoy exclusive discounts on lessons and gear rentals when you rent a pickup from us.
Kitesurfing on Bonaire
Bonaire is one of the best kitesurfing destinations in the world. This is due to the consistent offshore winds and the flat, crystal-clear waters. The kitesurfing beach is one of the most beautiful beaches on Bonaire, with its pristine sandy shoreline and two converted school buses where you can relax in the shade, grab a drink, and find kitesurfing equipment and lessons. While kitesurfing, you'll spot pelicans and flamingos flying overhead, often encounter sea turtles swimming by, and if you're lucky, even have dolphins joining you. It's truly a paradise!
Kitesurfing Lessons on Bonaire
Aside from being a fantastic spot for experienced kiters, Bonaire is also an ideal location to learn or improve your kitesurfing skills. Whether you want to try foiling, winging, or simply acquire new tricks, the flat water and offshore winds provide optimal and safe conditions. At FX Bonaire Kiteschool (the yellow bus), instructors ensure you learn kitesurfing in a fun and safe manner. Private or semi-private lessons are conducted from a boat. With the instructor nearby, you'll receive immediate guidance, and you'll always return to the beach safely.
During your first lesson, you'll likely start by flying a kite on the beach to get the hang of it. Once comfortable, you'll move on to the water with a larger kite for safe practice. You'll quickly develop a feel for it and may even ride a few meters on the board during your first lesson. The learning process varies from person to person, but eventually, everyone will be kiting independently, experiencing the exhilarating feeling of gliding over the water and mastering new skills. If you just started and are not sure if you can make your way back to the beach due to the offshore wind, they also offer resque packages to help you get back savely.